Wercker:
Product Features
Intro
During my time at Wercker, one of my main responsibilities was designing new features to improve the capability and usability of the Wercker platform.

How were these chosen?
We had a backlog of feature requests from users that we stored as epics and stories in a Github board. We worked in two week sprints and selected stories based on the priority of the tasks to help achieve Werckers' larger goals.
Our process changed when we were acquired by Oracle. Rather than being user-based it became more top-down, catering to the needs of Oracle's enterprise customers (Generic Git is an example).

Gitlab SaaS
What was the goal?
When Creating a new application in Wercker, there is a Wizard flow with three steps for this process.
We wanted to add a new 'Source Code Management' ('SCM') option to the first page, while updating the visual design (to 'cards' instead of a 'list') to include more information about the conectivity status of SCMs.

Process
Lo-fi and Hi-fi wireframes. Refining a new component. Overall flow.

Year 2017

Team 1 designer, 1 developer, 1 product manager

Processes Wireframing, Interactive, Prototyping, User testing

Tools Sketch, Invision

Lo-fi wireframes

1st iterations

Reiteration of the current design with larger 3 column cards for SCM selection at the bottom.
Considering ability to scale by adding other SCMs. We weren't sure if this would be a feature going forward, but thought this was a good time to mock it up.
Alternate design. All in one.
Bringing all the screens of the Wizard into one page.
Further iterations

2nd & 3rd iterations

SCM card interactivity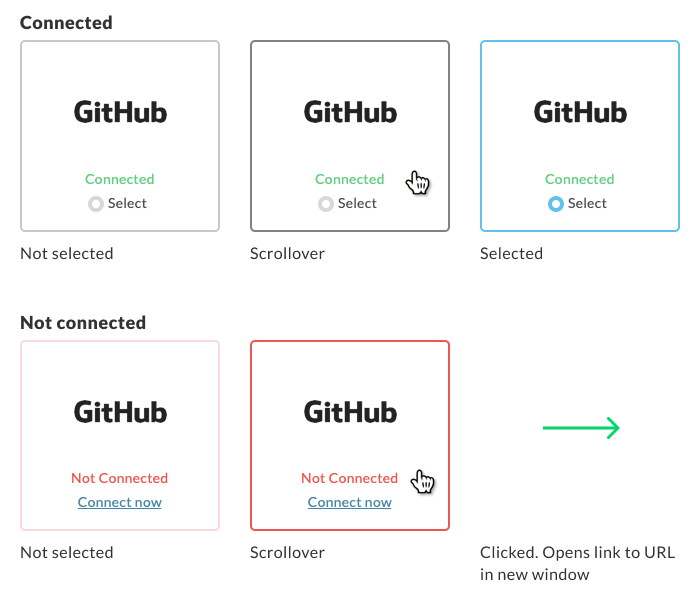 Full flow